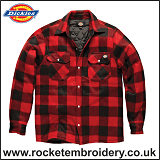 Rocket Embroidery Work wear supplied and embroidered on site at our factory in St Helens next to the hospital. We supply shirts Padded for warmth. Polar fleeced for comfort inside, Ideal for keeping warm in cold weather.Our Staff Uniforms in St Helens is supplied fast with the best brands including Dickies Workwear,St Helens Merseyside, Portwest Workwear, St Helens, Merseyside, Regatta, St Helens, Merseyside and Embroidered with the latest high tech embroidery machinery that ensures a clean embroidered finish.We print Hi Viz vests and hard hats and banners in our st helens factory. Get you and yourself noticed with Rocket Embroidery, the number 1 printing & embroidery experts…
At Rocket Embroidery we produce your printing & embroidery requests onto Work Wear,Football Team Kits, Printed Hoodies, Embroidered Polo shirts, School Wear, Party T Shirts including Hen Night T Shirts, Stag T Shirts, any Photo Printed T Shirts and a wide selection of clothing and event merchandise. We also specialise in Van Signage, Digital Banner Printing and Vinyl and digital Van Signage.Promote you aand your business with our in house printing and embroidery. We produce professional embroidery to give you a second to none image with you embroidered uniforms. We manufacture all of our designs and embroidery and printing here in st helens at our factory next to st helens hospital to ensure a fast quality service.
Our keyword has always been quality because at Rocket Embroidery we pride ourselves on excellent customer service, fast turnaround, keen prices and a quality embroidery and print service. Our embroidery is produced fast and is a reliable finish which will endure the roughest of working. We embroider fire retardant workwear with our fire retardant embroidery thread to ensure all safety standards are kept up with. We can email you a sample of your logo for you to approve within 24 hours of receiving your artwork.
Call today on 01744 601 402 or email paul@rocketembroidery for a fast response to your enquiry with Rocket Embroidery….