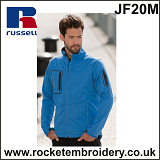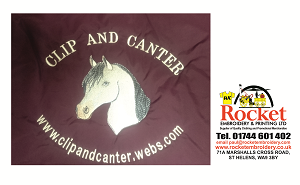 Equestrian Designs are a great way of personalising your equipment and clothing for Horse Riding. Our quality embroidery finish is a must for any keen Horse riding fanatic. Rocket embroidery hold a large collection of horses ready in embroidery format for your saddle cloths, Riding Jackets, Hoodies, Polo Shirts, Gilet. Choose a horse design and add your horses name in any font of your choice in any colour.
We also offer a range of polos, fleeces, shirts, sweatshirts, jackets, baseball hats, bags and t-shirts all of which can be embellished with your logo or lettering. Rocket Embroidery specialise in supplying top quality embroidered and printed leavers hoodies, sports club hoodies, school trip hoodies, dance schools University, College, Teams and Martial Arts. We can embroider or print individual names, print all your names on the back within your design, in any colour of your choice.
Call into our shop next to St Helens Hospital to view our embroidery designs and our wide range of clothing or email paul@rocketembroidery.com  for more details..