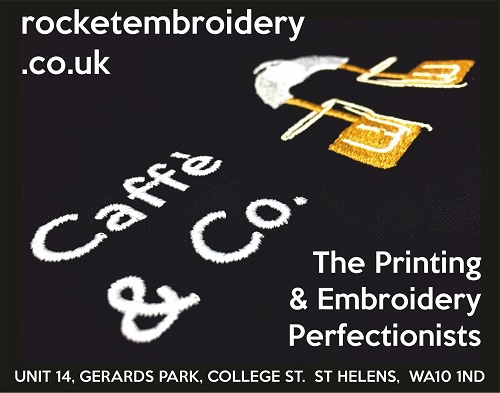 Hospitality Uniforms & Chefswear
Check out our wide range of Hospitality Uniforms and Chefswear, our workwear is ideal for Restaurants, Pubs, bars and much more. It is very important in the hospitality and catering industry to make sure garments are suitable for working in and they are hygienic. At Rocket Embroidery, we feel it is important that all of our customers are provided with suitable workwear that has a very professional look.
Embroidered Hospitality Clothing
Want to incorporate your company logo onto your uniforms? We have you covered..
Rocket Embroidery have decades of experience in providing Embroidered logos onto workwear, for a wide array of companies. Whatever the requirements, our experienced staff members can meet your uniform criteria. We supply only the best brands of clothing, our brands are very durable and compliment embroidered company logos, making them great for branding.
Check out the Staff Uniforms we did for Brothers Burgers, a brand new Restaurant in St Helens
Companies we Provide with Staff Uniforms
Restaurants – Professional Clothing for High end restaurants
Colleges with Catering courses
Pubs & Bars – Embroidered Bar Apparel such as branded aprons
Takeaways – Embroidered Polo Shirts, Aprons & more
Takeaways – Whatever takeaway food you serve, we have the perfect staff apparel to suit your work environment. For Example, Embroidered Aprons are ideal for Fish & Chip shops, we can embroider your existing logo, or we can design you one!
Restaurants – Rocket Embroidery supply products to suit all restaurants. Check out our wide range of chefswear at our online shop. We supply premium brands such as denny's, which can be finished off with your embroidered company logo
Pubs & Bars – Set the tone of your Pub or Bar, we have many stylish brands of clothing that can be personalised with your logo. Embroidered Shirts & Blouses, Aprons, Trousers and more are all available from our online shop. Check out the products from the brand bargear


Branding for your Restaurant
Branding is a very vital part of a Restaurants business strategy. At Rocket Embroidery we can enhance your branding with our fully customisable staff uniforms
Why are Staff Uniforms a vital part of your business strategy?
Restaurant Staff deal with many people face to face. This means you should consider promoting your company logo wherever possible to increase brand recognition and future sales.
Branded Clothing gives a great first impression to new clients
Professional looking workwear can make your restaurant look more luxurious
Order your Personalised Workwear with us
If you would like to place an order, email paul@rocketembroidery.com or call 01744 601 402. You can also place an order on our online shop