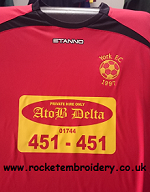 Discount deals on STANNO FOOTBALL KITS at Rocket Embroidery.. Click HERE to view our range of offers today.
Supplying Printed & Embroidered –WORKWEAR – SPORTSWEAR –SCHOOLWEAR and banners…
Full artwork design at our Factory next to St Helens Hospital in Merseyside.
Call today on 01744 601 402 for a FREE QUOTE or contact us via our website.
Shop open Weekdays from 9am – 5pm…