Birthday T Shirts Printed and Birthday Banners are supplied and printed Fast here at Rocket Em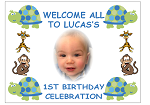 broidery St Helens.  We add your logo to Promotional Signs, workwear Uniform with our FAST QUALITY In House Printing and embroidery service at our shop at:
UNIT 14, GERARDS PARK,
COLLEGE STREET,
ST HELENS, WA10 1ND
We Make all our Signage, Banners,A boards and Vehicle Signage at Rocket Embroidery.
We produce all our embroidery and print at our site in St Helens. For a FREE quote on Signage call 01744 601 402 or email paul@rocketembroidery.com today.