We Supply Custom Printed T Shirts in Wigan and the rest of the UK. At Rocket Embroidery we supply custom printed t shirts in many colours and sizes, we can print your own artwork or design logos for you!
T Shirt Sizes Range for 2-13 in childrens sizes and XS-4XL in Adults. We are Based in St Helens, Merseyside and supply printed t-shirts to Wigan and the rest of the UK.
Our T-Shirts are 100% Cotton and we use High Quality vinyl to press the designs onto the T-Shirt.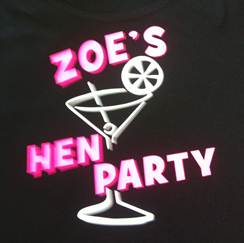 Hen Party T-Shirts – Customised Hen Party T-Shirts with names and images created by us.
Birthday T-Shirts – Personalised Birthday T-Shirts! A Special Gift for your Friends and Family.
T Shirts for Businesses – Enhance your Brand with Your Business Logo and info on T-Shirts.
T-Shirts for Events – Raise Awareness for Local Events
Contact us for a Free Quote on T-shirt Printing Wigan
Call us: 01744 601 402
Email: paul@rocketembroidery.co.uk