Embroidered Staff Uniforms
Rocket embroidery are specialists in Providing  the best Embroidered Staff Uniforms in the north west of the UK.
We pride ourselves on over 30 years of experience in the embroidery and printing garment decoration business. Our fast turnaround on embroidery and printing has become our greatest stand out from the crowd difference. We are a family run business making sure all work produced and customer service is to the highest quality. We have the latest technology at hand in both office I.T innovations right the way through to our factory maintaining the highest level of machine quality production right the way down to our personal collection, own delivery and courier service. We only use the best suppliers that meet our demand of embroidery and printing manufacturing goods and service from them, together with the best branded work, sport and school uniforms to achieve our fast high quality perfection order production. We hold our customers in very high regard ensuring we personally ensure their demands are met above their requirements in terms of , Customer service, Communication, Garment Quality, Print and embroidery design quality and turnaround delivery time. We hold all customer embroidery and print files on record for future orders which enables an even faster turnaround time on uniform embroidery and garment printing orders the next time round.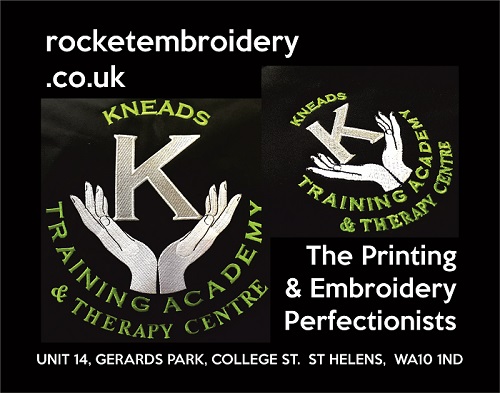 After 10 years at our factory/shop in St Helens, we recently in September 2017 decided it was time to expand to a 1,500 sq ft factory/SHOP in the heart of St Helens just behind the Town Hall on Gerards Park on College street. The decision was made by the growth of the company over the last 5 years which left us needing more space for stock, Machinery and also easy access with free easy parking for our customers who are collecting from us. Gerards Park is situated just off the A580 East lancs road through Haresfinch just behind JEWSONS on College Street.
Contact us for a fast quotation on Embroidered Staff Uniforms Today or message us on Facebook
Please see below a map of our new location Unit 14, Gerards Park, St Helens, WA10 1ND.