NHS Polo Shirts
NHS Polo Shirts are available to purchase from our online store along with a wide range of other workwear garments. The other garments that are available with the NHS Logo embroidered include Fleece Jackets, Softshell, Waterproofs and Hoodies.
The NHS Logo can also include additional details such as Staff, Hospital and Department Names.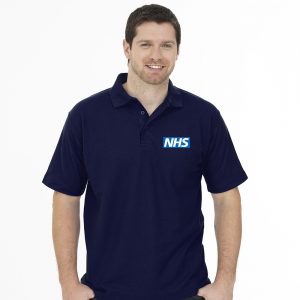 Nurses Uniforms
A whole range of garments are supplied for Nurses Uniforms. Any logo can be embroidered onto items such as Tunics, Tabards, Jackets, Polo shirts and Healthcare Trousers.
We have over 20 years experience in Embroidering garments and only provide the highest quality logos. Any order can be undertaken, just contact us with your enquiry for a free quote!
Contact us
Contact us to place an order for NHS Polo Shirts. Call 01744 601 402 or email paul@rocketembroidery.com