Hen Party T-shirt ideas
Here are the best Hen party t-shirt ideas to make your Hen do a memorable one. Hen parties are a night to remember and now it is a fashionable trend to create themed t-shirts for hen night. When you decide on your design, colours and names for the t-shirts, you need to choose a theme. Whether it is the simple choice of text printed onto the front or you go all out with a themed design.
ROCKET EMBROIDERY
UNIT 14, GERARDS PARK,
COLLEGE STREET
ST HELENS,
WA10 1ND
Here are the best Hen party t-shirt ideas that are great for making your hen party themed and stand out. At Rocket Embroidery, we supply many customers with custom designed hen party t-shirts and if you are unsure, we can create a design for you!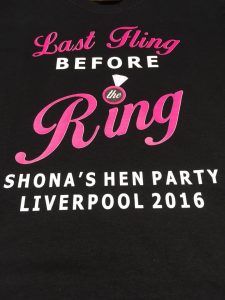 T-shirts with Slogans
Here is a T-shirt that we designed for a Hen do in 2016. This had the slogan 'Last Fling before the ring' and was printed onto all t-shirts for the group. Any slogan can be incorporated into a great design for your hen party!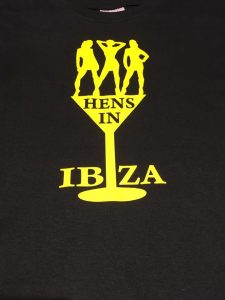 T-shirts with Custom Logos
At Rocket Embroidery, we want to make sure the theme fo your t-shirt, is exactly the way you like. Logos can be designed from scratch for your hen party t-shirts, take a look at this t-shirt we designed for a Hen party in Ibiza.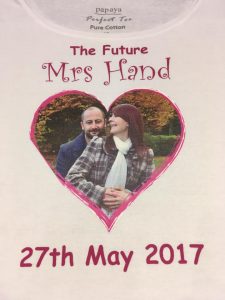 Photo Printed T-shirts
Photo printed t-shirts are great to add a personal touch to the t-shirts for the hen night. Great ideas include having the Hen's face and name printed onto the t-shirts or having the future husbands face on the t-shirt with 'I am marrying him' underneath.

Funny T-shirts
Humour can be implemented into the t-shirts, which can include both funny images and wording. Check out this t-shirt when did for a Hen party in Leeds.
T-shirt Designs
It is important that the t-shirt design you go for stands out onto the t-shirt. Many variations of designs are ideal for your hen party, depending on the preferred look for your t-shirts. Popular ideas include catchy slogans, photograph prints, custom artwork or simple text. Other details that can be included are the location and date, the brides name and a phrase.
Matching group t-shirts
Matching group t-shirts make the night memorable and are also a great way to get free drinks. Group t-shirts can include nicknames for each person on the back or front of the t-shirt.
How to order
Visit our contact us  page and let us know the quantity, colours and sizes for the garments. A whole range of trusted brands are available for different styles of t-shirts, vests and tank tops. Send us your artwork or let us know what idea for a design you may have, we can create the perfect design to suit your theme.
ROCKET EMBROIDERY
UNIT 14, GERARDS PARK,
COLLEGE STREET
ST HELENS,
WA10 1ND
Call: 01744 601 402
Email: paul@rocketembroidery.com
[/fusion_text][/fusion_builder_column][/fusion_builder_row][/fusion_builder_container]