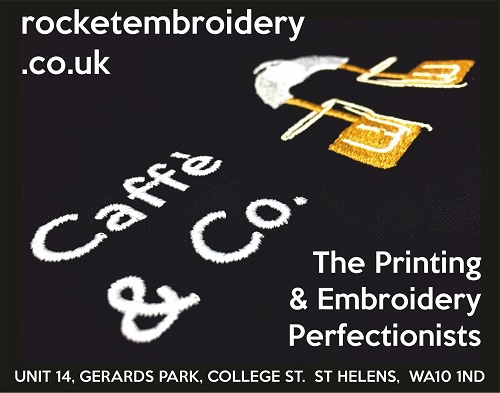 Poloshirt and Embroidery supplied at Rocket Embroidery St Helens – FAST TURNAROUND..Ideal for Businesses, Workwear – Sports Teams, Clubs, Events, Dance Troops etc..Call 01744 601 402 for more Info visit www.rocketembroidery.co.uk to order online today..
ROCKET EMBROIDERY
UNIT 14, GERARDS PARK
COLLEGE STREET,
ST HELENS,
WA10 1ND
At Rocket Embroidery, we Embroider logos and text on garments for businesses in Merseyside and the rest of the UK. For Polo shirts, Protective workwear, Hi Visibility vests, hi viz, safety boots, football Kits, School Uniforms,all of which can be embroidered or printed with your own custom logo with a fast service!
We produce sample logos for every order to ensure you are happy to complete the order. We have over 20 years of experience with embroidery and pride ourselves with a quality service and fast turnaround..
Email: paul@rocketembroidery.com