Stag and Hen Party T shirts St Helens, Merseyside. Printed and T shirts supplied by Rocket Embroidery. Our latest vibrant printing colours and the best technology for high quality T Shirt Designs are paramount at Rocket. We can Design your ideas into Great T shirt designs or can advise you on what logos may suit your occasion and venue from our vast range of designs in stock. Call today on 01744 601 402 or email on paul@rocketembroidery.com for a FREE Quote on your t shirts. We supply the best brands on the Market from Fruit of the loom, Gildan, Mantis, Kustom Kit, Uneek and many more…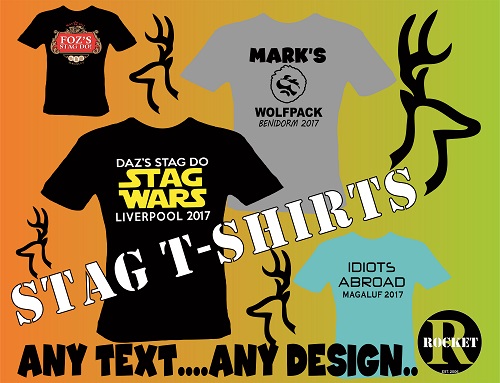 Stag or Hen party t-shirts are a great way to promote your last night of freedom. We supply Top Branded T shirts with the Stag or Hen's name, funny lines or whatever you desire.
Creating your theme for your Hen or Stag party is a great way of bringing your party members together as your ideas for printing and embroidery will get you noticed and create a happy talking point long into the night..!
Email paul@rocketembroidery.com with a description of t shirts, text , logo requirement, font style and print colour for a quick quote on your party wear…
Put it on with your embroidery and printing experts….!